puppy training school
The Puppy Academy is an elite ALL DAY DROP-OFF TRAINING SCHOOL and boutique for PUPPIES!
We offer a comprehensive puppy training program that trains your puppy for you, alleviating the stress of puppyhood.
Check out our video below to learn more:
How The Puppy Academy works in three easy steps:
step one
Drop your puppy off at school in the morning. We train and monitor your puppy all day long for you.
step two
Pick your puppy up at the end of the day and get briefed on what they've learned so you can apply it at home.
step three
Repeat the process.
At the end of the semester, your puppy will graduate a trained pup!
curriculum details:
For more program details, you'll want to click here for our fun Curriculum outline, tuition and pup requirements!: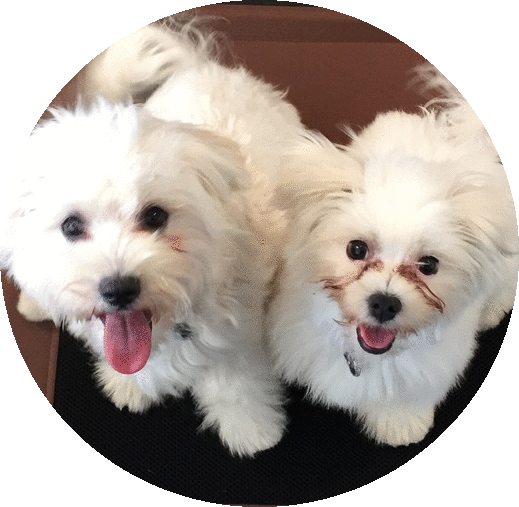 "The Puppy Academy is by far the best decision I have made in regards to the training of my two puppies. They are so caring, knowledgeable and helpful. They have truly made a difference in the happiness of my pups, and in the happiness of my daughter and I! We are forever grateful!"
~ Jodie with Snowflake and Buddy
"I cannot speak highly enough about the Puppy Academy and their staff…With the help of the whole team, our dog Gobi went from an unruly, mischievous puppy to well behaved, attentive doggo truly on his way to becoming the lifelong companion we had always dreamed of owning...Really, we couldn't be happier."
~ Chris and Gobi
"I absolutely love The Puppy Academy!!!...In such a short time my puppy has learned how to walk better on a leash (no trainer has been able to stop my dog from pulling), how to lie in place for a long period of time, how to relax when greeting people/dogs, and heel."
~ Vivika with Cassie
Read more of our wonderful clients' reviews and personal experiences with us across these platforms:
Videos:
Follow Yago through an entire day at The Puppy Academy!:
Watch our students in action learning their "Place" command in the video below:
Get social:
Check us out on Instagram and see our adorable students in action during their classes each day on our wildly popular vlog on IG Stories!
Follow our Facebook Page to see daily pics of our students at school, cute videos, and get puppyhood tips!
Enroll now!
When it comes to puppy training, there's no time to waste! Contact us now to set up your free consultation to learn more about our school, training programs, and get your puppy started!